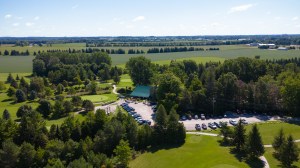 Lush manicured landscapes, challenging water hazards and beautifully wooded areas make Woodlands Links a first choice for any golfer. Woodlands is an Audubon and championship Links course. The breathtaking course has no two holes that play alike offering a challenge for both the beginner and avid golfer.
Water hazards exist on 11 of the 18 holes, there are 28 strategically placed sand and grass bunkers, and the natural roughs encourage you to take a sure swing when you are not on one of several holes which run through forested areas. This course, designed and built, run and owned by Gordon and Paula Lobb is sure to please all who visit.
Another attraction is the club house designed from the existing post and beam bank barn dating back to 1840. This building is accented by its rusticated fieldstone architecture, many attractive surrounding rock gardens and flanking outdoor patios, offering excellent views overlooking the course.
Owner Gordon Lobb
General Manager Mike Harris
Superintendent Steve Robinson
Golf Pro Dave Bedour